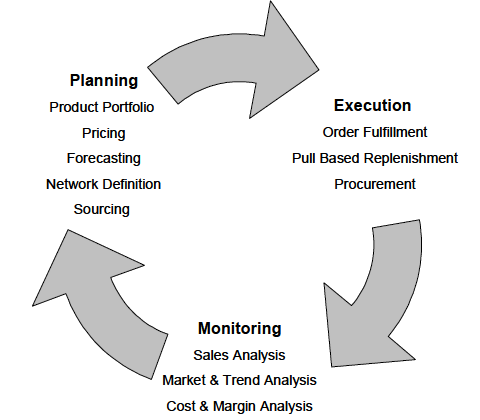 As the adjoining picture shows, in any business, planning, execution and monitoring processes are iterative processes that are closely interconnected. The importance of formal planning as a core function of business operations has never been greater – with increased global competition, shifting business models, and the need for a business to be both operationally efficient and well-positioned for growth. Success requires great execution which in turn requires the right, optimal plans to execute upon.
Key Planning Domains
Planning functions are scattered throughout an organization and have varying cycles – yearly, quarterly and daily. Considerations differ from industry to industry, company to company and involve factors that are often dynamic. The output of plans drive operational decisions. Planning solutions need careful evaluation of all these factors as well as the extent of the impact of best practices and technologies (EDI, VMI, RFID etc), that govern operational execution of plans.
| | | | | | | |
| --- | --- | --- | --- | --- | --- | --- |
| Product Portfolio Planning | Price Planning | Material Planning | Sourcing & Procurement Planning | Warehouse & Distribution Planning | Post Sales Service Planning | Workforce Planning |
Portfolio of Offerings
Strategic Assessments

Asset and operational efficiencies, revenue optimization
Inventory & Cash Flow Analysis
ROI measurements

Process Mapping

Current State Analysis
Future State Definition
S & OP analysis, Best Practices Implementation

Market Planning

Technology and Industry trends studies
Workshops, Seminars and White Papers
Product Marketing Assistance

Technology Planning

Technology rationalization
Solution definition, Initiative planning
Outsourcing strategy

Planning As A Service

Benefit Assessment Framework – Web based, customizable ROI assessment tool
Product Portfolio Planning Service – Trend Analysis (historical, market and other) to evaluate category and product profitability
Forecast Planning Service – Forecast model tailored to specific causal factors of a business
Replenishment Planning Service – Replenishment model tailored to specific constraints of a business
Operations Planning Service – Comprehensive demand-supply-margins match

Engagement & Service Management

Engagement Planning and Design
Project and Program Management
Ongoing Service Support
Case Studies
New England based mid-size manufacturer
Program to transition them into a branded marketing and distribution firm – historical sales & margins analysis, portfolio planning, price modeling, establishment of sourcing & distribution network -Efficiencies achieved in sourcing – 10%, Revenue growth anticipated – 8%
Large National Telecommunications Provider
Load forecasting and field service technicians planning across a 5 state geography for a large telecom service provider, based on weather, infrastructure and other factors, optimizing customer service targets with budgets and overtime spend. – Decrease in labor spend by 5-8% and Increase in revenues by 1-8%
Large TX retailer
Assortment rationalization based on rates of sale, store clusters, etc for a retailer – Decreased inventory one-time by 1%, Reduced days of inventory on average by 10%
Large Consumer Goods Manufacturers
Outsourcing of the warehousing function for a manufacturer of consumer products – Reduced costs of
warehousing – 10%, Reduced days in inventory by 15%
Reengineering of the procure-to-pay process for a beverage maker, to allow for invoice-less settlements to suppliers and transportation service providers – Reduced claims and invoice processing costs by 30%
Principles and Values that Guide Us
Nathan Research adopts a unique approach to solutions development/delivery by combining original thought leadership with
Customer involvement in problem and solution definition
Field validation by working with users
Continous R&D and innovation for practical solutions
Knowledge/experience in a variety of solutions and techniques
Relationships with leading industry organizations.